Do you remember years ago a toy train set that could be connected by magnets? The magnetic pull would force each individual train to follow the one that came before it. With enough magnetic pull, there would be three or four trains connected, following each other in the same path on the wooden train tracks. Now, let's expand our thinking and apply this to today's modern technology. Imagine you are driving down the interstate when you see three or four trucks following, no more than 10 feet behind the other. Except this time, they are not connected by a magnetic pull, but by IoT technology. According to the Washington Post, A wave of new technology intended to make trucks safer — using radar, cameras and reflective light scanning — is sweeping the industry. This new wave of technology is defined as platooning, and it is becoming very real in the trucking industry.
What is Truck Platooning?

Per the European Automobile Manufacturers Association truck platooning is defined as "the linking of two or more trucks in convoy, using connectivity, technology, and automated driving support systems. These vehicles automatically maintain a set, close distance between each other when they are connected to certain parts of a journey, for instance on motorways."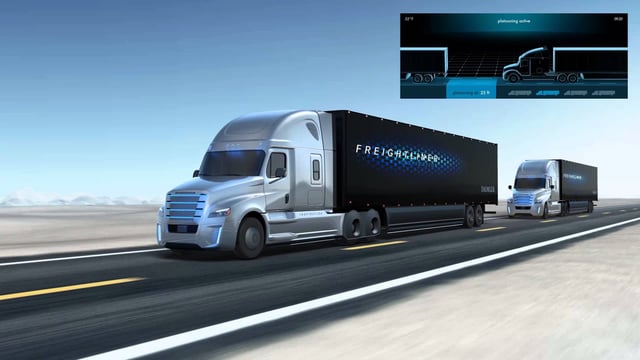 Source: Freightliner Inspiration Truck – Platooning Technology

---

Demonstrated: Partially automated truck platooning


In September of 2017, the Federal Highway Administration and Federal Motor Carrier Safety Administration, demonstrated platooning technologies on the I-66 corridor during times of heightened traffic. The platoon implemented Advanced Driver Assistance Systems (ADAS) that allowed three trucks to follow together using the cooperative adaptive cruise control system technology (CACC). CACC uses radar sensors and the electronic actuation of the engine, while adding vehicle-to-vehicle communication, to allow a closer following vehicle control system. The CACC technology controls speed adjustments, breaking, and the distance between vehicles.

While this demonstration was partially autonomous, and drivers in the trucks were still needed to control the steering wheel, this is only the beginning. Platooning is becoming a household name in the industry and will continue to evolve as technology begins to become increasingly complex, and regulations are set to ensure consumer and operator safety.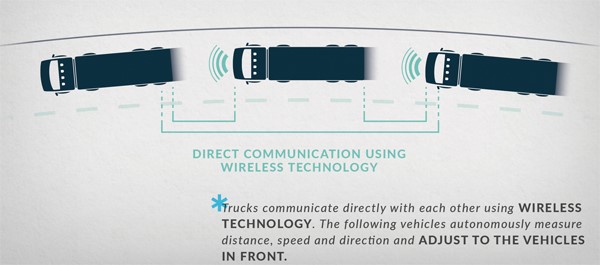 Source: Continental Corporation – Automated Truck Convoys
---
Is Truck Platooning Safe?
According to the demonstration lead by the Federal Highway Administration, truck platooning allowed for better utilization of the highway through increased throughput, improve fuel economy and lower operating costs. While all of those are positive results for business and environmental impact, is anyone thinking about the drivers and operators of the truck?
Trucks following each other in close range, at speeds of 75 mph, can't be safe, right? Experts say that is wrong. Platooning is said to be a safer method of travel for trucks due to the response time of the CACC technology. The CACC system technology can react and adjust at faster speeds than a human driver. Because the CACC technology reacts based on the connected trucks in their platoon, operators no longer need to control the speed and breaking of their truck. This eliminates human error and distractions from behind the wheel. However, platooning can only work if it's done safely, and that will require the development and testing of technology that allows the vehicles to be tethered wirelessly and "talking" to each other with regards to acceleration, braking, lane-changes and other aspects of highway driving. Platooning falls in line with autonomous vehicle development and aerospace testing, without the implementation of a critical safety standard, there can be no regulation to the coding and system hardware that is implemented to ensure this technology runs efficiently.
Safety Is Critical at Every Level of Development

As platooning begins to become a household name in the trucking industry, more states are working on enabling testing and development requirements to enhance technology. Just as in the autonomous vehicle, there will need to be standards in place that regulate the safety of the technology and safeguard against faults in operating systems. To put regulations in place, the I-10 Connected Freight Corridor Coalition formed, made up of transportation officials from California, Arizona, New Mexico and Texas. The coalitions main objective is to help formulate the regulatory landscape for platooning technologies. One step the group has taken is to implement a bill to the California state legislation that will allow the continued testing of Driver Assistive Truck Platooning technologies by Caltrans, California Highway Patrol and stakeholders until Jan. 1, 2020. "This bill would require Caltrans to a report to the Legislature on findings related to the technology's potential to reduce greenhouse gas emissions and increase driver safety by July 1, 2019."



European Market Jump Starts Platooning Regulation

Like many regulatory standards that have been adopted in the United States, Europe has a jump start on the regulatory policy and changes that would enable policy measures required for platooning. The European Automobile Manufacturers Association has created a road-map to the implementation of level-2 platooning technology, where trucks of other brands and fleets will be able to wirelessly connect and communicate while on the roadway. Per the EU legislation, the regulatory framework for platooning includes:
required communication protocols
Automated commanded steering functions (ACSF)
driver monitoring
driver training
updated signaling and road markings for platoons
additional requirements for periodic technical inspections
The right regulatory framework needs to be in place in order move forward with technology enhancement, this further enforces the need for functional safety at every level of development.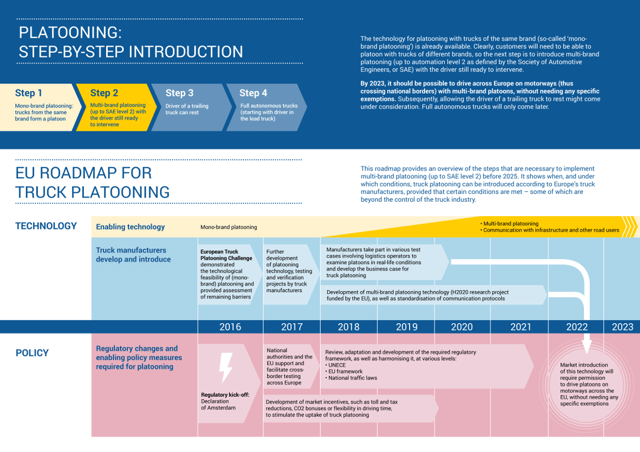 Source: ACEA EU Roadmap for Truck Platooning
---
So, how long do you think it will be before we see platooning technology on our highways? Is this the next big change in the automotive industry?
At LHP, we have decades of hands-on experience in Safety Critical and Functional Safety requirements. Instead of serving as a consultant, dealing in theories and best practices, our team of experts will work with your staff one-on-one to implement the necessary changes.
LHP takes a bottom-up approach. We will do the work for you to ensure you're interpreting and implementing the required safety standards correctly. Our goal is to help you navigate the current compliance requirements in a way that positions you for success today and in years to come.