LHP Engineering Solutions is honored to be included in the 2020 Edition of the State of IoT Report, produced by the Indiana IoT Lab. We are grateful to be included with some of Indiana's brightest minds and organizations. LHP harnesses decades of technical experience and industry knowledge to help create products and establish processes that are safe, reliable, and innovative. Coupled with LHP's unique knowledge in embedded controls, LHP can provide IoT and telematics expertise through integrating electronics, sensors, telematics, and equipment field usage applications into holistic IoT systems.
Within the report, we outline how we are dedicated to playing an active role in the acceleration of development, adoption, and widespread use of interconnected machines and devices through intelligent analytics.
The following is an excerpt from the 2020 Edition of the State of IoT Report, produced by the Indiana IoT Lab.
---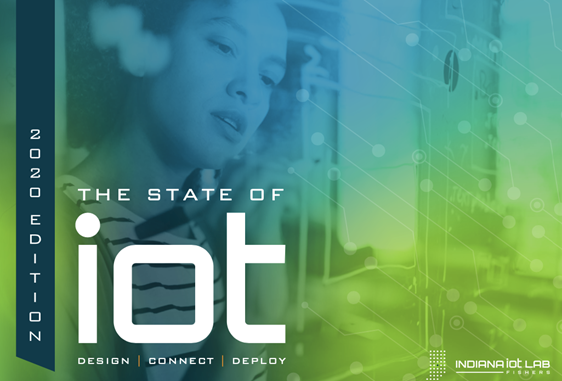 ---
Founded in 2001 with the mission to create a safer, smarter and more connected world, LHP Engineering Solutions (LHP) has provided functional safety engineering services and technology integration for embedded controls, telematics, data analytics, and model-based design. We specialize in creating custom, flexible, and comprehensive technology solutions in the automotive, aerospace, and medical fields.
Through our knowledge in embedded controls, telematics, and data analytics, we deliver technology solutions and engineering services built on intelligence, connectivity, and actionable insight.
We deliver by deploying engineering services, technology integration, innovative tools, training, and data analytic solutions to enable product development, engineering process redesign, standard compliance, and clarity in the face of accelerating complexity.
LHP believes by developing technology solutions and engineering services built on intelligence, connectivity, and actionable insight, that real autonomy is possible.
Organizations strive to meet demands for innovation as electronic control unit requirements increase in complexity. At the same time, you are pushed to refine internal processes, establish strong documentation standards, and utilize your workforce effectively.
ABOUT LHP DATA ANALYTICS & IOT SOLUTIONS


As part of LHP Engineering Solutions, the LHP Data Analytics & IoT business unit was founded on a simple yet compelling concept. Combine the deep engineering expertise and telematics of LHP with our analytics, cloud, manufacturing, and large-scale systems experience to create a team unlike anything in the industry.
Our vision is to transform how companies today utilize data and connectivity to drive business results converting underutilized data in to actionable results. Now more than three years later, we have gone from startup to triple-digit growth, helping transform LHP into an industry leader in digital transformation and industrial IoT solutions.
Our mission is to provide a new atmosphere of easy-to-use IoT and analytics solutions that allows business decision makers to quickly access, combine, analyze, and present information, lower business and IT process complexity, lower costs, and provide leadership data driven decisions and high end-user satisfaction.
OUR CLIENTS TYPICALLY NEED
Efficiency to Reduce Costs and Maximize Profitability:
Integrated digital strategies and execution plans to achieve economic profit targets
Industrial connectivity to achieve global economies of scale
Large-scale systems integration to enable cross-functional opportunities
Advanced Data to Optimize Revenue, Organizational Scale:
Achieve business case results from digital transformation
Leverage data to improve customer satisfaction, competitive position
Drill-down, drill-through analytical capability throughout the global enterprise
Leadership and Innovation as a Service:
Leadership through the complexities of a digital enterprise
Solve problems no one else can solve
Partners that can teach, train, and inspire
OUR APPROACH


We believe in the agile approach to IoT and analytics (specifically: Distributed Agile Development). When we combine our technology approach to processes, support, and expertise with our business domain and engineering knowledge, results follow.
At a high level, our approach consists of rapid iterations and continuous reapplication of the key insights. Start small if needed and live and learn with your data, prototype often, and get the information to the key stakeholders early and often. This foundational approach yields significant results (50%) in the first few weeks' pass, with substantial value (80%) by the second few weeks' pass. As you follow this approach, the quality of the model, data, and most importantly business value improves. Finally, this approach allows you to focus on individual PoCs within a factory, business unit, function, or region, or with a connected enterprise solution, or IoT connected ecosystem.